Moon Catcher #4 — A Dendritic Agate Landscape Ring in Sterling Silver — Size 6 3/4
Regular price

Sale price

$215.00
A one of a kind landscape dendritic agate, wrapped in fine silver. This piece sits upon sterling silver and has a textured branch-like sterling silver band.
Behind the stone peeks through a soft silver moon, hand etched on a slightly oxidized background, to give the effect of a moonlit evening. All of my oxidation is done by using traditional, slow made methods; no toxic jewelers chemicals have been used.

The face of the ring is about 0.7 inches tall by 0.4 inches wide. It is flanked at the bottom with sterling accent pieces. This ring offers a softer moonlit view, perhaps as if it were a cloudy evening with the moon trying to peek through.

This is handmade and one of a kind. I have created this in an eco-friendly manner — from hand with no harsh jewelers chemicals and no power tools.
The old fashioned way, using recycled silver.

Thus, it has taken me a considerable amount of time compared to using other modern jewelry techniques. Therefore, file marks, as well as asymmetries are all part of the hand-fashioned process.

Do not submerge this ring in liquid, as a haziness will form over time behind the stone.
The face of the stone measures 0.7 inches wide by 0.6 inches in height.

This would best fit a size 6 3/4. - This ring, like my others, can not be resized.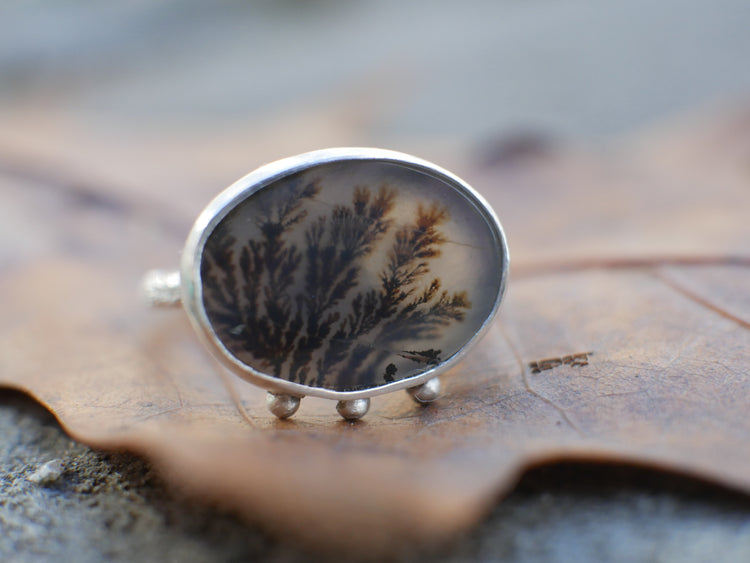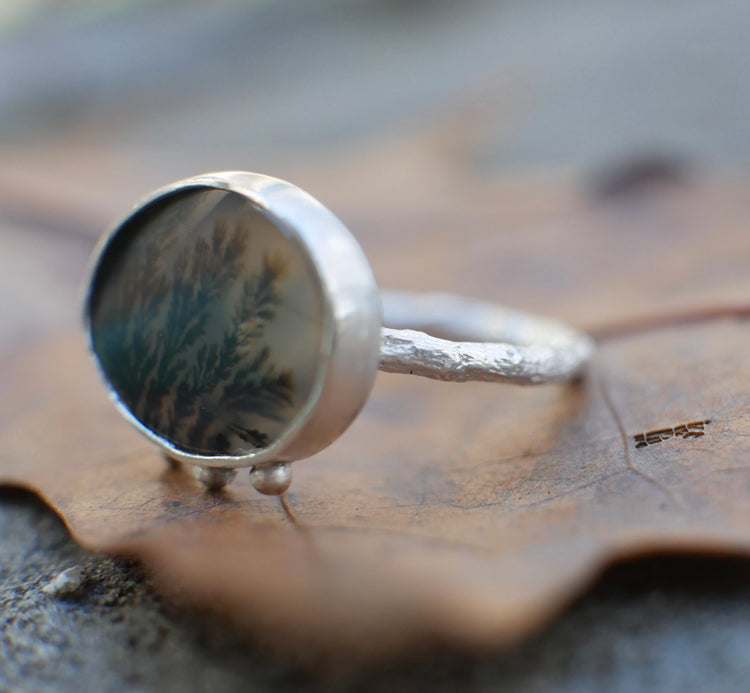 Reviews



So beautiful. The stone is like a dreamy landscape that's so peaceful to look at. I love how this artist puts the moon and/or sun behind it. really sets off the piece. I definitely will be back to buy more pieces! And the the shipping was so lightning fast!!!!
This is utterly beautiful and her packaging/presentation top-notch. Shall be a gift for my daughter!
My dendritic ring turned out to be even MORE AMAZING in real life. I love it so much! The work and detailing is so good. It's perfect!
Love my new earrings the stones are gorgeous and the workmanship is impeccable!
Today I received this unique and beautiful ring in Japan!! Thank you Melissa for shipping quickly . I will gaze at this ring all the time. Thank you !!