Mermaid Diamond Drop Earrings in Sterling Silver
Regular price

$277.00

Sale price

$195.00
Many years back, I got my start making seashell jewelry. Mostly miniature Sailors Valentines in mini wooden boxes to wear as necklaces. This was before I got into any kind of metal smithing.
It's been a while since I've made new seashell pieces. I don't really do them anymore just because of the fact that I must use an epoxy mixture to fill the shell to stabilize them and give them rigidity or else they would simply crumble in a jewelry setting. And as you may know, I pride myself in working in an eco-friendly fashion in addition to employing a hand-tools-only method of creating. 

I had made these dangle earrings recently for an artists event along the waterfront in a quaint little Oceanside city.
They are naturally colored sea urchins, found as unoccupied shells washed up on the coast of the Mediterranean a few years back. Filled with my long favored, tried and true recipe of epoxy to give it long lasting rigidity. Fine and sterling silver handmade embellishments and components with hand hammered detailed textures surround these magnificent specimens.

Sterling silver hand formed ear wires suspend these beauties. 
Definitely one of a kind! I am not sure when or if I'll be making this style again.
These shells are approximately 0.65 inches in diameter. These earrings measure approximately 1.8 inches in total length
These were made from recycled silver as my other pieces are, created without the use of power tools. 
These shells have been filled for strength, but as a reminder, please do treat this, and other jewelry kindly to ensure they last as heirlooms. Remove these before showering, exercising or before putting on perfumes or lotions.
Thank you for your interest in my work!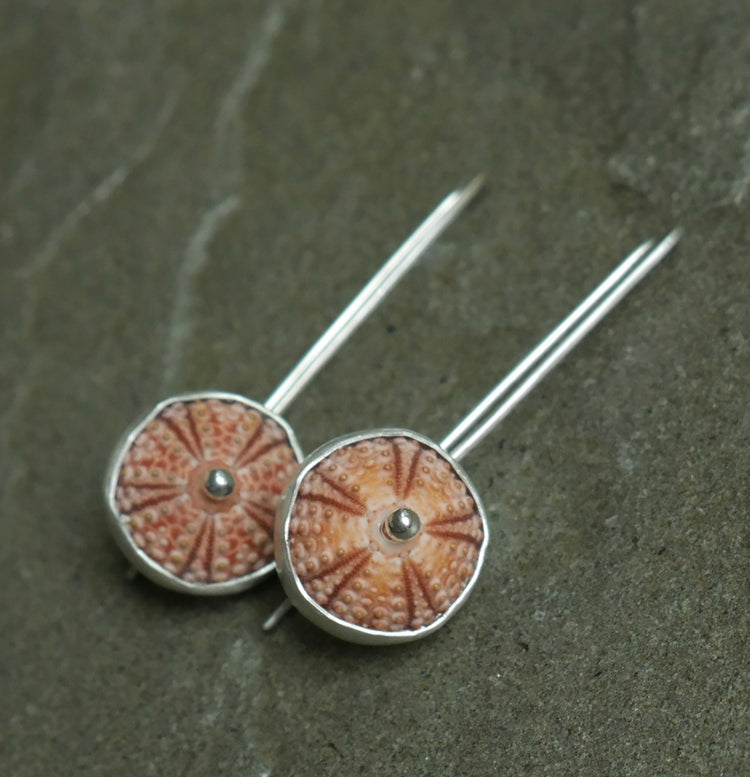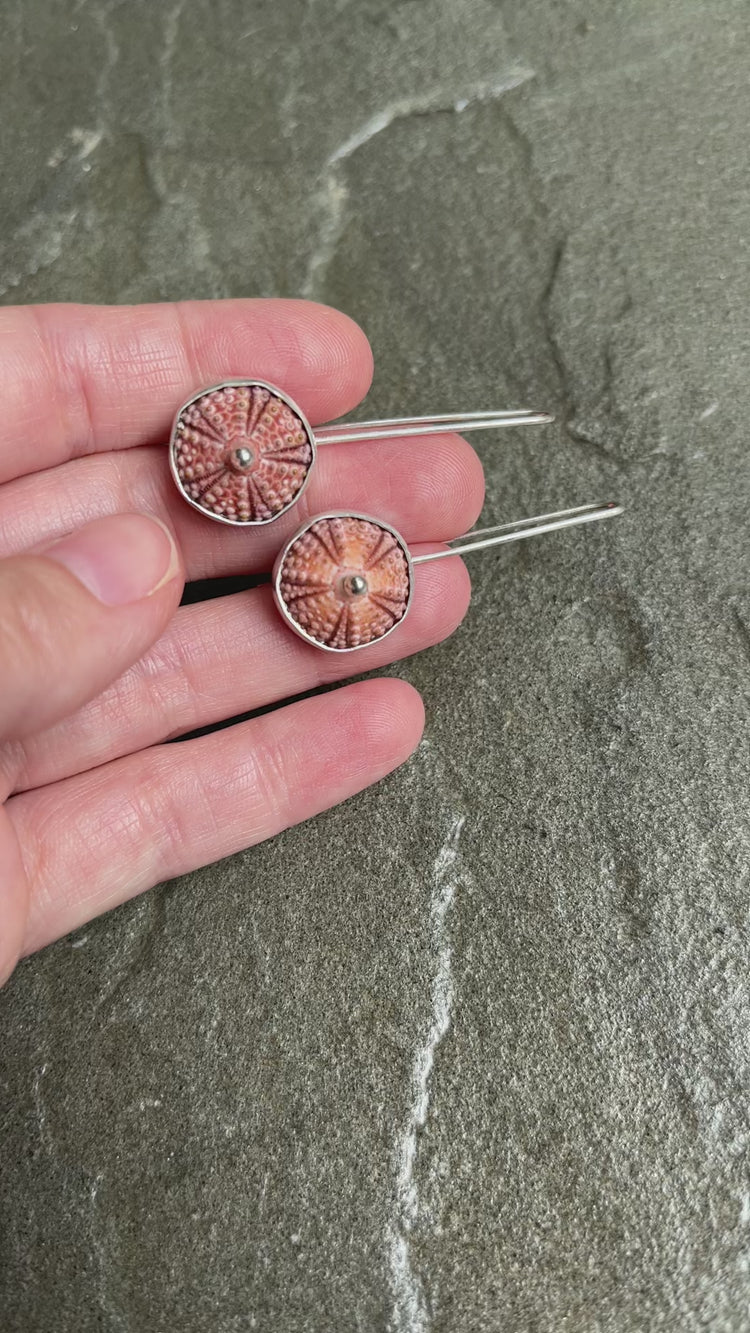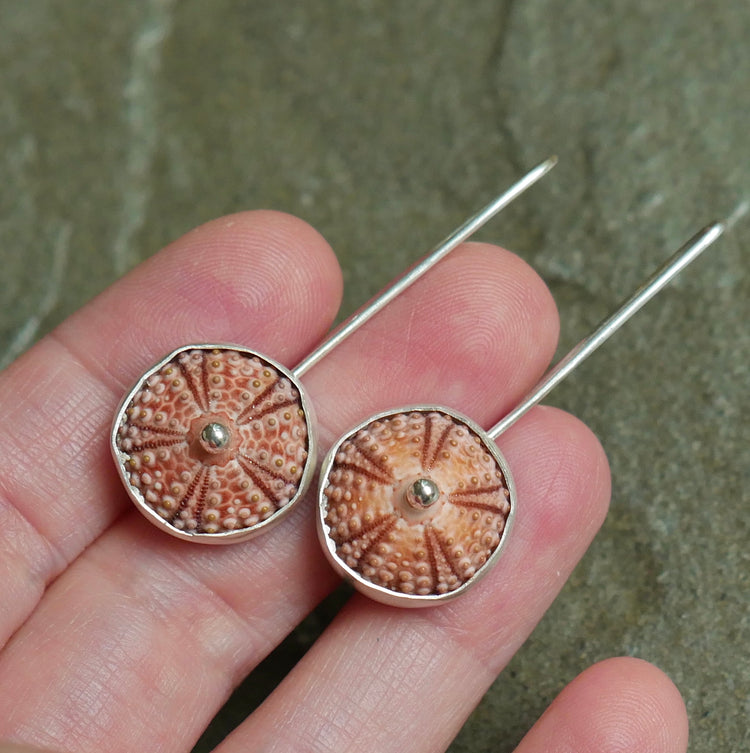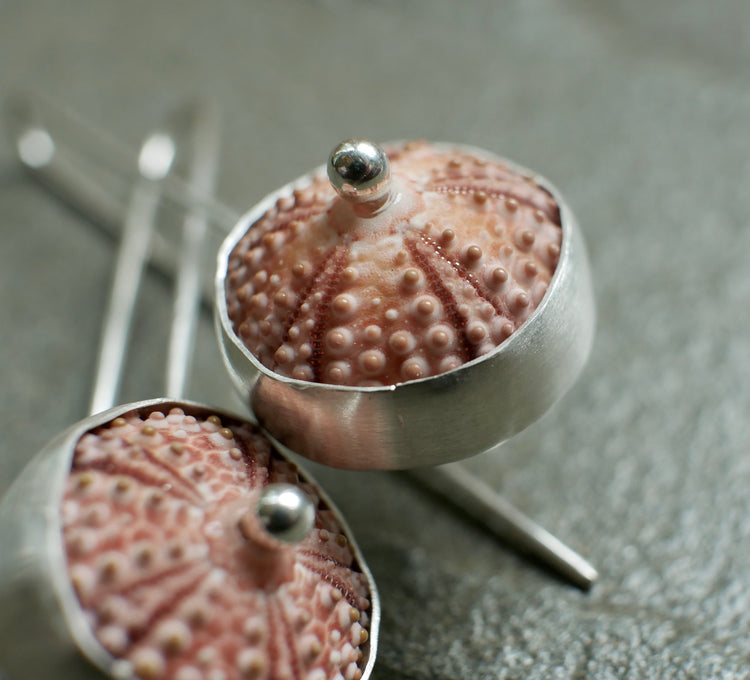 Reviews



So beautiful. The stone is like a dreamy landscape that's so peaceful to look at. I love how this artist puts the moon and/or sun behind it. really sets off the piece. I definitely will be back to buy more pieces! And the the shipping was so lightning fast!!!!
This is utterly beautiful and her packaging/presentation top-notch. Shall be a gift for my daughter!
My dendritic ring turned out to be even MORE AMAZING in real life. I love it so much! The work and detailing is so good. It's perfect!
Love my new earrings the stones are gorgeous and the workmanship is impeccable!
Today I received this unique and beautiful ring in Japan!! Thank you Melissa for shipping quickly . I will gaze at this ring all the time. Thank you !!